Experienced, efficient and personal.
We combine decades of experience and a proven track record with a genuine care for each and every client.
Our Focus
The Firm has a large general civil litigation practice, to include insurance defense, personal injury, family law, corporate law, and an extensive practice in the handling of commercial and residential real estate transactions, estate planning services, probate administration and corporate law. In addition, Ned Tupper enjoys a very active mediation practice.
Ned Tupper, Erin Dean, and Stacey Canaday engage in civil litigation matters throughout the State of South Carolina, in all State and Federal Courts. Jim Grimsley regularly handles real estate closings, business transactions, estate planning and probate administration matters in Beaufort, Colleton, Hampton and Jasper Counties.
A Brief History
The Law Firm of Tupper, Grimsley, Dean & Canaday, PA, was founded in May 2001, by its initial shareholders Ned Tupper, Jim Grimsley and Erin Dean, all of whom had practiced together for approximately eight years in the predecessor firm of Davis, Tupper and Grimsley, LLP. Stacey Canaday became a shareholder in the firm on January 1, 2013.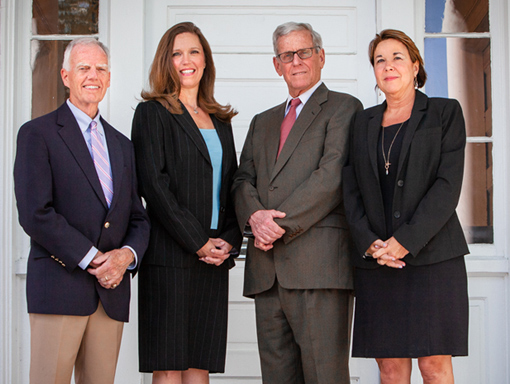 Meet Our Team
The Firm has extensive experience in each of its practice areas, and the attorneys and each member of the staff fully understand the need for communication, efficiency and the personal attention that our clients need and deserve
All of the members of the firm are regularly engaged and currently hold, or have held, leadership positions in a wide variety of nonprofit organizations in the Beaufort community.